Premiere Pod Sand Camping
Have a question? View our Premiere Pod Sand Camping FAQs below!
Please be aware wristbands are sold separately and you must purchase wristbands to access sand campsites as they are within the event boundaries.
PURCHASE YOUR WRISTBANDS HERE!
Premiere Pod Camping Overview Map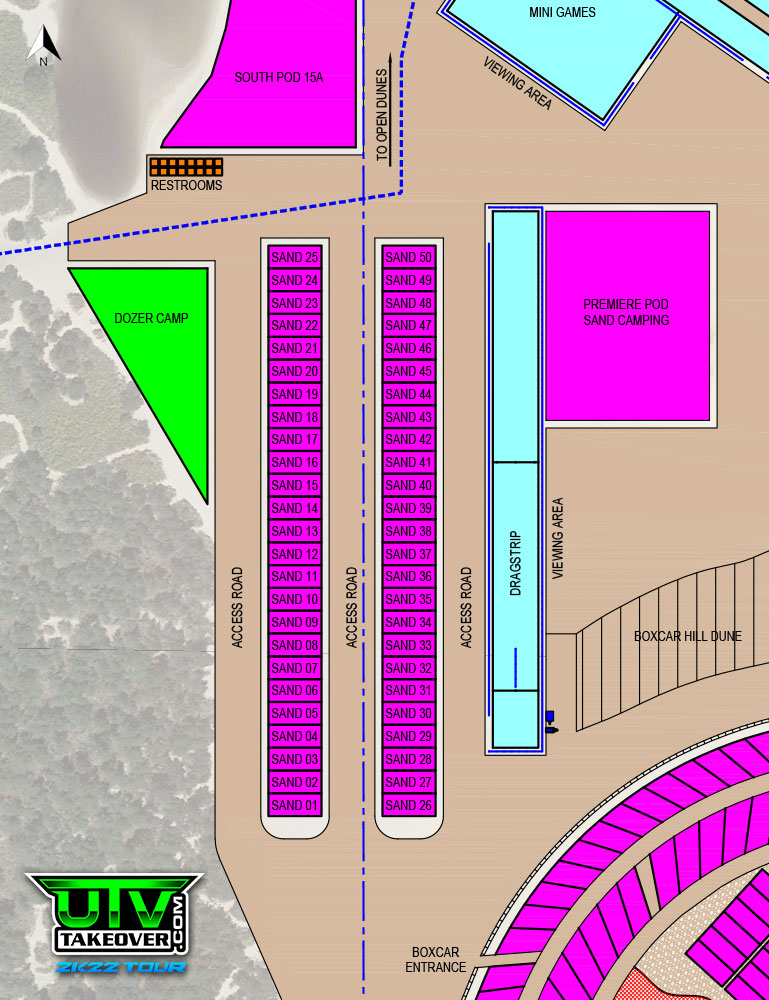 UTV Takeover Overview Map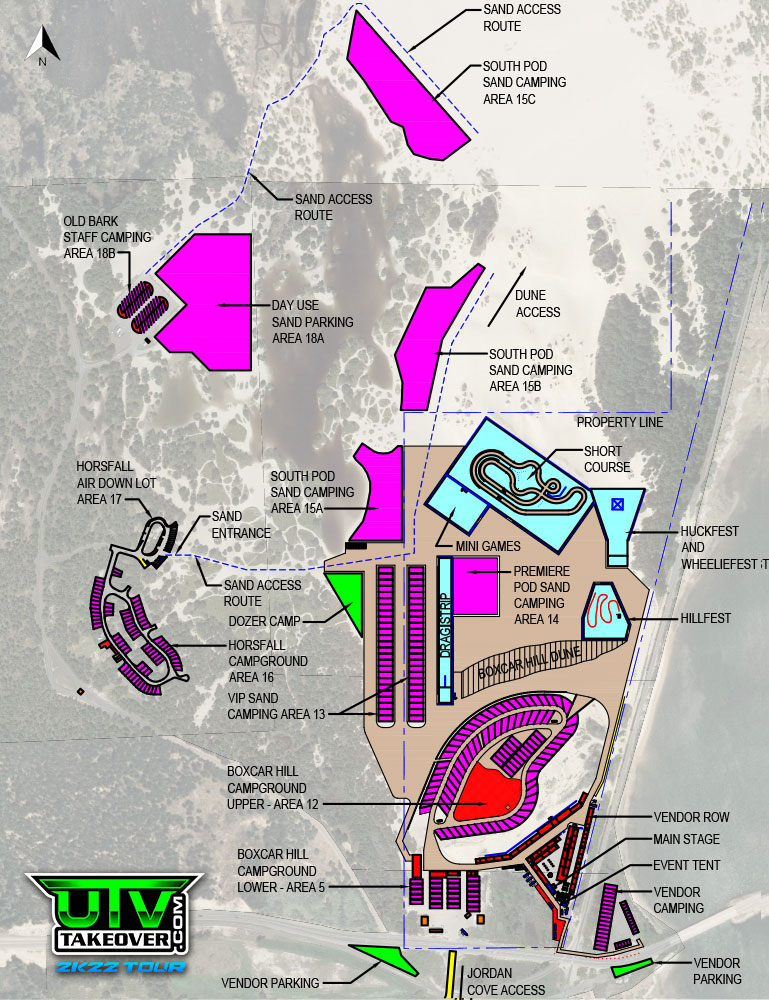 Premiere Pod Sand Camping FAQs
Where is Area 14 located?
Area 14 is referred to as our Premiere Pod Sand Campsites. These 35 campsites are located in the heart of the event between the Short Course and Drag Strip. While there are boundaries for these campsites, they are NOT marked nor have a pre-assigned shape. You are free to park anywhere in the pod and parking/camping areas will be first come first serve. This camping area is great for people with larger groups that want to circle up, be close to the event, and want easy access to the open dunes.
How much are the Premiere Pod Sand camping passes?
How many days are the Premiere Pod Camping passes good for?
Each pass is good for six days and five nights, starting Tuesday, June 21st through Sunday, June 26th, 2022.
How can I purchase Premiere Pod Sand Camping passes?
Camping passes can be pre-purchased through our website by using the link on this page. If campsites do not sell out before the event, passes can be purchased at the entry gate when you arrive. Traditionally, these campsites sell out quickly!
Does my pod camping pass purchase include any event entry wristbands?
No. Camping passes and event entry wristbands are sold separately. We did this to keep the cost as cheap as possible and wanted to make sure each participant only had to purchase what they needed.
How can I purchase event entry wristbands?
You can pre-purchase wristbands through the website for $40 up to the week of the event. The week of the event, wristbands can be purchased at the entry gates for $45 each. We recommend purchasing them through the website to save $5 per person and help reduce wait times at the gate.
Do I need event entry wristbands to access my campsite?
Yes! Please be aware that everybody in your vehicle will need event entry wristbands to get through the entry gate to access your campsite. Wristbands are $40 up to the week of the event. The week of the event, wristbands can be purchased at the entry gates for $45 each. Kids 12 and under are free and can be acquired at the entry gates.
When can I check into the Premiere Pod Sand Camping sites?
The event starts at noon on Wednesday but you can check in starting Tuesday, June 21st at 12pm PT (noon). Unlike previous years there is NO additional fee to set up camp on Tuesday!
When do I need to check out?
All participants are asked to clean their sites and check out by 12pm PT (noon) on Sunday, June 26th. We understand that times may vary if you require dozer assistance. Please plan to get an early start and be aware there could be a bottleneck at the air-up station and a short delay waiting for a dozer to become available. We ask that everyone be patient as our staff and operators will be working as fast as possible to assist each camper.
Does each vehicle in my group need a pass or just the ones pulling trailers?
Yes, each vehicle within your pod group will need a pass. The Forest Service has a land-use agreement that only allows a certain number of vehicles on the sand at any given time. We monitor the number of vehicles by limiting the number of passes we sell. Vehicle passes will be checked at the gate before entering the sand. There will be a designated day-use area on the sand, but no overnight parking will be allowed.
Will a dozer be available?
To increase efficiency we hope that many of the campers will do their research and be prepared to access the sand without the use of a dozer. However, if you don't feel comfortable doing so we will have multiple dozers on-site to assist you. The dozer service is FREE but tips are welcome. Dozers are inherently not fast and you may have to wait in line for assistance.
Do I need a flag on my vehicle whether driving under my vehicle's own power or getting towed to my campsite?
Yes! Once your tires hit the sand all standard dune rules apply. This includes, but is not limited to, an ORV Tag and Flag. Even though our event is held on private property many of the campsites are located on Forest Service land. they have been extremely supportive of the event and we look forward to working with them for years to come. Please help us maintain this relationship by following the rules of the sand and neighboring properties while enjoying our event.
How do I access my Premiere Pod Sand Camping site?
Area 14 can be accessed through the Horsfall day use lot. Once you arrive at our southwest gate, located on Horsfall Beach Road, you will be greeted and guided to the Horsfall Day Use lot by our UTV Takeover security team. We have created a staging area concept that will accommodate eleven 40' trailers at any given time, where you can safely air down your truck and trailer before entering the dunes. Compared to last year, where everyone was required to use a dozer, this year you will be asked to enter the sand under the power of your own vehicle similar to any other weekend throughout the year. If you don't feel comfortable doing so, simply ask for dozer assistance from a UTV Takeover official. This small but important change will greatly reduce if not eliminate any traffic issues on Horsfall Beach Road and significantly cut down wait times.
Does my Premiere Pod Sand campsite have utilities?
No. These are dry camping sites located on the sand. You will need to bring in your own water. We recommend filling your tanks in Reedsport at the marina before heading south to Coos Bay. Gray/Blackwater is not permitted to be dumped in the sand. If you need your tanks serviced or filled during the event please call Roto-Rooter at (541) 290-0775. They will be camped on the sand and would be happy to service your trailer for a small fee.
Are campfires allowed in this area?
Campfires are allowed on the sand. Participants are asked to dig a hole for the fire and fill it in at the end of the event. We asked participants not to throw cans and garbage in the campfire and remove any unused firewood. Help us leave the dunes cleaner than we found them!
Are there dumpsters in Area 14?
Areas 14 will have access to a 20-yard dumpster located in the southeast corner of the Horsfall day use lot during the event. We ask that all participants help keep the dunes clean by using this dumpster during the event.
Are there restrooms/showers in this area?
Area 14 will have access to portable restrooms located near the Southwest corner of the racetracks. Showers are NOT available in this area.
Is there a campground host in Area 14?
Area 14 will NOT have a campground host. However, this area will be monitored throughout the day by our UTV Takeover security team with assistance from the local Forest Service and Sheriff.