Please be aware wristbands are sold separately.
PURCHASE YOUR WRISTBANDS HERE!
Have a question? View our Middle Park Dry Camping FAQs below!
Middle Park Row 1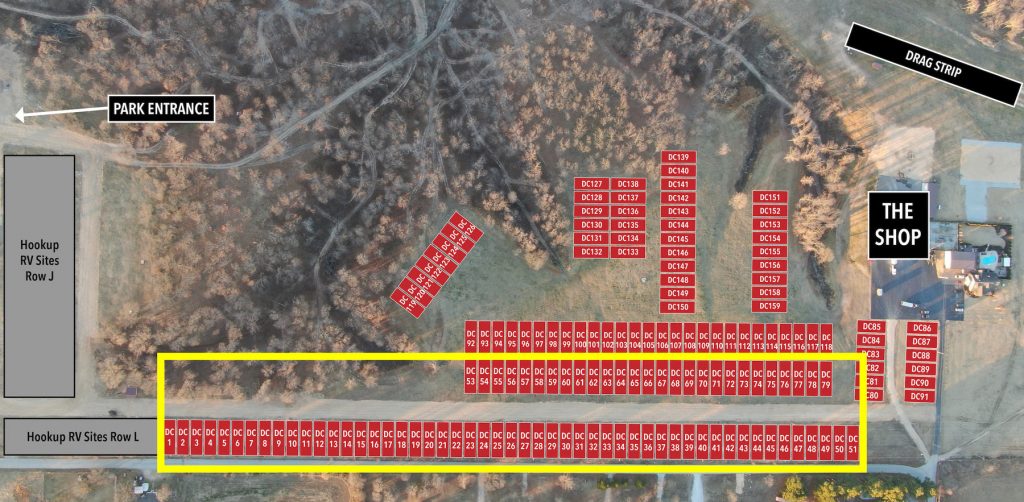 Middle Park Row 2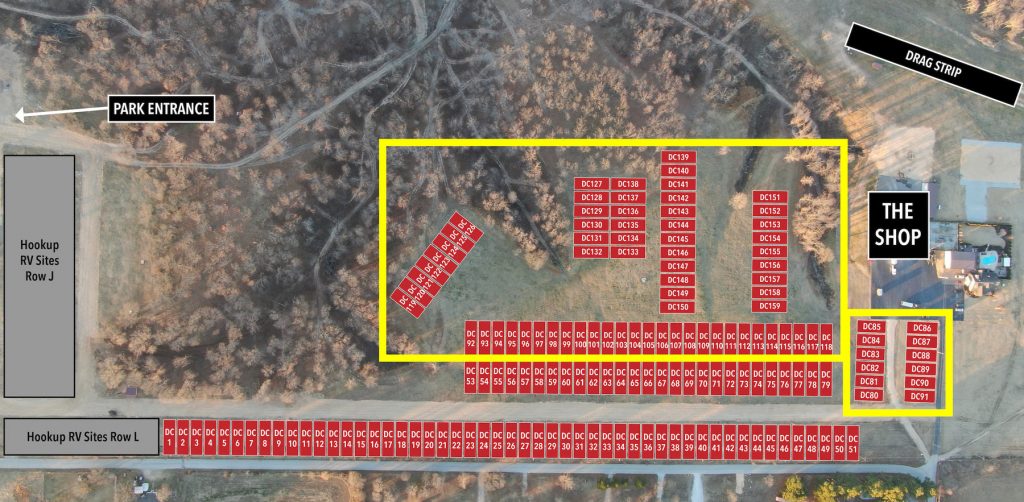 Middle Park Dry Camping FAQs
Where are these areas located?
Area 3A is located in an existing campground known as The Trails INN. Area 3 contains 28 campsites – All 28 Sites have Full Hook-ups including power, water and septic. Each site is clearly marked and numbered. Sites vary from 20 – 25' wide by 40' – 50' long depending on location. If you have any questions feel free to email us at [email protected] This campground includes existing dumpsters and portable restrooms.
How much are the camping passes?
How many days are the camping passes good for?
Each pass is good for (4) four days and (4) four nights beginning Wednesday September 8th and ending Saturday September 11th with checkout before noon Sunday.
How can I purchase camping passes?
Camping passes can be pre-purchased through our website by using the link on this page. If spots do not sell out prior to the event, passes can be purchased at the Dueces Wild office upon arrival.
Does my camping pass purchase include any wristbands?
No. Camping passes and wristbands are sold separately.  We did this to keep the cost as cheap as possible and wanted to make sure each participant only had to purchase what they needed.
How can I purchase wristbands?
You can pre-purchase general admission wristbands through the website for $50 or purchase them at the gate for $50. You can pre-purchase VIP admission wristbands through the website for $120 until July 1st. We recommend purchasing them through the website to save time at the gates when accessing the dunes.
Do I need wristbands to access my camping spot?
The answer is No. Wristbands allow riders to participate in our FREE events during the week. Camping passes are sold separately and can be purchased through our website or directly through the many privately owned and state-run campgrounds in the area. We have 150 full hook-up sites available in Little Sahara State park located close to the dunes and all the action. We also have 350 dry camping sites located near downtown Waynoka right next to our massive vendor row.
The event starts at 9:00 AM on Wednesday but you can check in starting Wednesday at 8:00 AM.  Early check-in is available starting Tuesday at 2:00 PM.  If you would like early check-in please email us at [email protected] to make sure your spot is available.  There is a $25 charge per trailer for early check-in.
When do I need to check out?
All participants are asked to clean their sites and check-out by noon on Sunday.
Is there a charge for extra vehicles or trailers?
There are no additional charges for extra vehicles or trailers, however, all vehicles and equipment must fit within your reserved space. There will be no overflow parking available.
How do I access my camping spot?
The Trails INN is located at 1175 Main St, Waynoka, OK 73860. Area 3A can be accessed through the main entrance located off of US-281/ Main St.
Does my site have utilities?
Yes. all 28 sites are full hook-up.
Are campfires allowed in this area?
Campfires are allowed in the campground.  Participants must use the fire rings supplied with each campsite.  We asked participants not to throw cans and garbage in the fire pits.
​Are there dumpsters in this area?
Yes. There are multiple dumpsters located throughout the campground. We ask that all participants help keep the dunes clean by using these dumpsters during the event.
Are there restrooms/showers in this area?
There are portable restrooms throughout area 3A. There are no showers on site. There are showers and restroom facilities located down the street at Little Sahara State Park.
Is there a campground host in this area?
Trails Inn has an existing process for check-in and campground monitoring, through their office. The campground host(s) will monitor the campground at all times and check-in the campers as they arrive each day.