BOXCAR CAMPGROUND
Tuesday - Sunday
$450
MAP AREA 12
76 SPOTS
Hard Pack/Hook-Ups
RESERVE NOW
HORSFALL CAMPGROUND
Tuesday - Sunday
$300
MAP AREA 16
70 SPOTS
PAVED/PRIMITIVE
RESERVE NOW
VIP SAND CAMPING
Tuesday - Sunday
$250
MAP AREA 13
50 SPOTS
SAND/PRIMITIVE
RESERVE NOW
PREMIERE POD
SAND CAMPING
Tuesday - Sunday
$200
MAP AREA 14
35 PASSES
SAND/PRIMITIVE
RESERVE NOW
SOUTH POD
SAND CAMPING
Tuesday - Sunday
$200
MAP AREAS 15
150 PASSES
SAND/PRIMITIVE
RESERVE NOW
NORTH POD
SAND CAMPING
Tuesday - Sunday
$150
MAP AREAS 21
75 PASSES
SAND/PRIMITIVE
RESERVE NOW
The Ultimate Experience
If you are looking to be right in the middle of the action then On-Site Camping is for you. With multiple areas/terrains and price points, we feel confident that we have something to fit your needs. All these sites have dune access and all have direct access to the events and activities. Prices range from $150 to $550 and include 5 days and 4 nights. These spots sell out fast each year so make sure to get in early. All these sites are managed by UTV Takeover and must be reserved through our website.
Notes for Campers
There are no potable/blackwater utilities at these sites, however, Roto-Rooter will be on-site and for a small fee would be happy to fill and dump your tanks during the event. We also have portable restrooms and dumpsters located throughout the area to service your needs
On-site camping requires you to wear your event wristband to get in and out of the campgrounds as they are within the event boundaries. Wristbands are NOT included, buy them here.
Are you uncomfortable camping in the sand? Have you never done it before? Don't worry we have you covered. Our friendly staff is available from 8:00 am to Midnight to assist you with our Dozer if you have any issues. This is a FREE service included with your camping, however, most people do just fine when they air down their trucks and trailers to 15 PSI. We also offer air stations and staff FREE of charge on Sunday to assist with airing your vehicle back up for the journey. We have thought of everything to maximize the experience at Takeover.
If you happen to miss an opening at one of our on-site camping locations, you can check with nearby Off-Site Campgrounds for availability.
Coos Bay Overview Map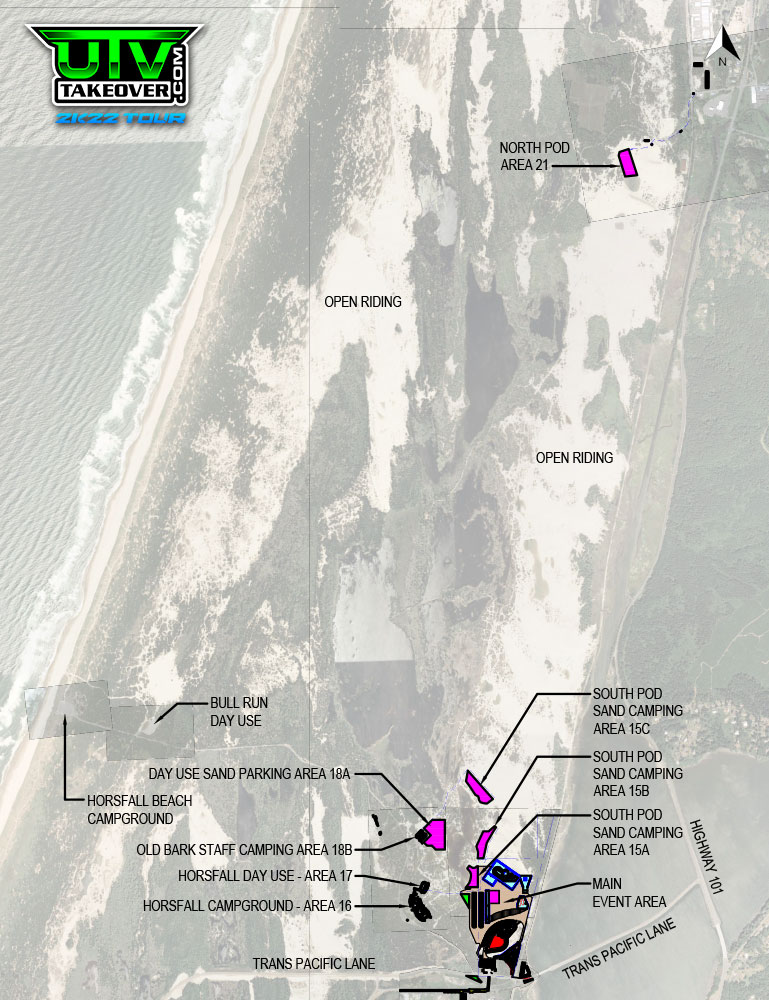 UTV Takeover Overview Map