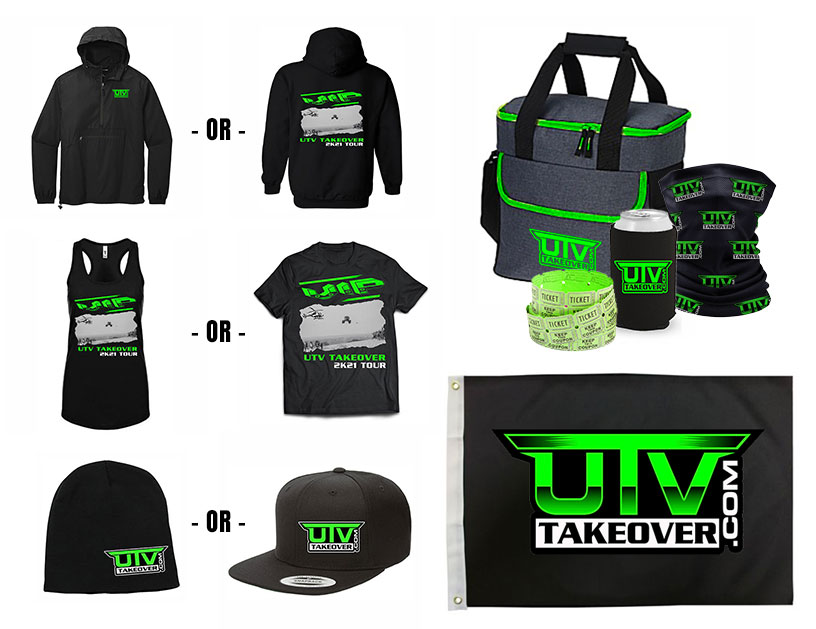 VIP Packages
At just $120.00, the VIP package provides over $210 of value at only $40 per day. VIP packages include a 4-Day Dune Acces pass (Wednesday-Saturday) allowing access to all of our exciting dune activities at no additional charge!
None of the VIP merchandise will be sold to the general public at the event and is only available for pre-sale through our website up until July 1st, 2021! We only have 200 VIP bags available at each event and include product and size-specific apparel, so make sure to act fast before all the packages are sold out. If you have any questions, please Contact Us.
Pre-Order 4-Day Dune Access Wristbands
At just $50 per wristband, this is the cheapest Dune Access fee during UTV Takeover and works out to $12.50 per day. This wristband allows dune access for all four days of the event (Wednesday-Saturday) to enjoy all of the sand activities. These wristbands may be pre-purchased through our website for $50 each (through September 2nd) or obtained at the Community Tent during the event at retail. Come early and enjoy all UTV Takeover has to offer and save $10/person by pre-purchasing online!
Child Wristbands
Family is extremely important to us so don't worry, we have your kids covered. All kids 10 and under are FREE IF NOT DRIVING and will not require a wristband. Drivers under the age of eleven DO REQUIRE a wristband! Kids are not required to pre-register. So bring the whole family, camp in the dunes, and enjoy all UTV TAKEOVER has to offer!
Single Day Wristbands
If you would like to visit the Little Sahara State Park for one day during the event, we offer $15 day-use passes at the gate (CASH ONLY) which includes the daily state park Dune Access fee. These access passes are available during gate hours (9:00 AM – 11:00 PM) and are valid until the gates open the following day.
Wristband FAQs