GENERAL ADMISSION
Tuesday - Sunday
$45
Ages 13+
BUY NOW!
VIP WRISTBAND
Tuesday - Sunday
$120
Only 200 Available!
EXCLUSIVE $233 COMBINED VALUE!
$40 – VIP Hoodie
$20 – VIP T-Shirt
$3 – VIP Only Raffle (3 RED tickets, one special prize each raffle)
$10 – Standard Raffle Tickets (10 GREEN Tickets for normal raffle)
$15 – Cooler Tote Bag
$5 – Magnetic Koozie
$10 – Travel Mug
$25 – Roll-up Blanket
$5 – Takeover Sticker
$5 – Key Chain / Bottle Opener
$45 – Entry Wristband
$50 – Tuesday Night VIP Party / VIP Group Ride
ONLY AVAILABLE UP TO AUGUST 1ST!
BUY NOW!
CHILDREN
Tuesday - Sunday
FREE
Ages Under 13
6-Day General Admission
No Reservation Required
FREE AT GATE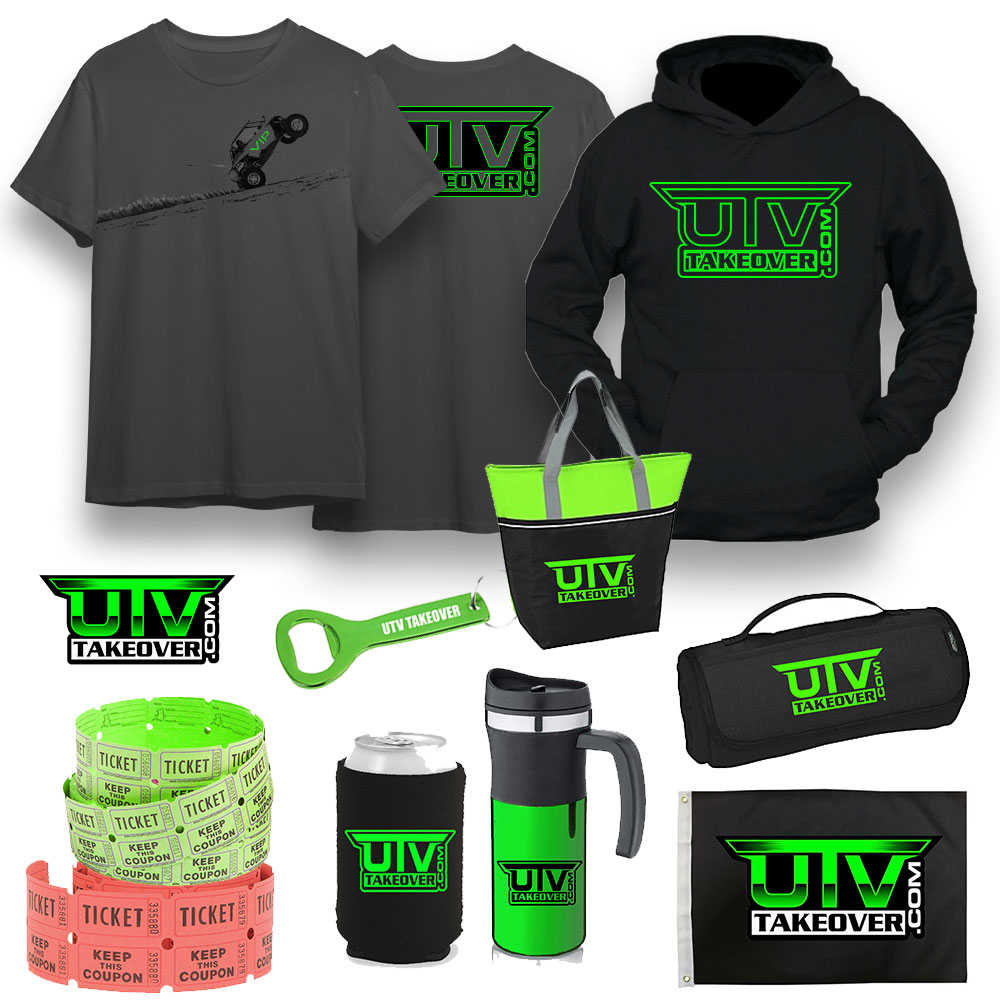 VIP BAGS INCLUDES VIP PARTY PASS!
VIP Wristbands
At just $120.00, the VIP wristbands provide over $233 of value at only $20 per day. VIP wristbands allow entry for all six days of the event along with access to all of our exciting activities at no additional charge!
Each VIP package will include a custom VIP Wristband, Raffle Tickets, Koozie, Flag, Bottle Opener, Cooler, Hoodie, T-Shirt, Travel Mug, Sticker, and Blanket Roll!
None of the VIP merchandise will be sold to the general public at the event and is only available for pre-sale through our website up until April 1st, 2022, or while supplies last! We only have 400 VIP packages available at each event and include product and size-specific apparel, so make sure to act fast before all the packages are sold out.
If you have questions please Contact Us.
Adult Wristbands
At just $45 per wristband, this is the cheapest event entry fee in the country and works out to $7.50/day. This wristband allows entry for all six days of the event and includes access to all of our exciting activities at no additional charge. These wristbands may be pre-purchased through our website for $45 each, up until the week of the event, or obtained at the entry gate during the week of the event. We ask everybody to buy their wristbands online to help reduce the wait times at the gates.
Kids 12 and Under
Family is extremely important to us and we have your kids covered. All kids 12 and under are FREE and will receive a special bracelet at the entry gate. Kids are NOT required to pre-register so bring the whole family, camp in the dunes, and enjoy all that Takeover has to offer!
Wristband FAQs