Have a question? View our Lakeview Campground FAQs below!
Please be aware wristbands are sold separately and you must purchase wristbands to access Lake View campsites as they are within the event boundaries.
PURCHASE YOUR WRISTBANDS HERE!
Lakeview Campground Map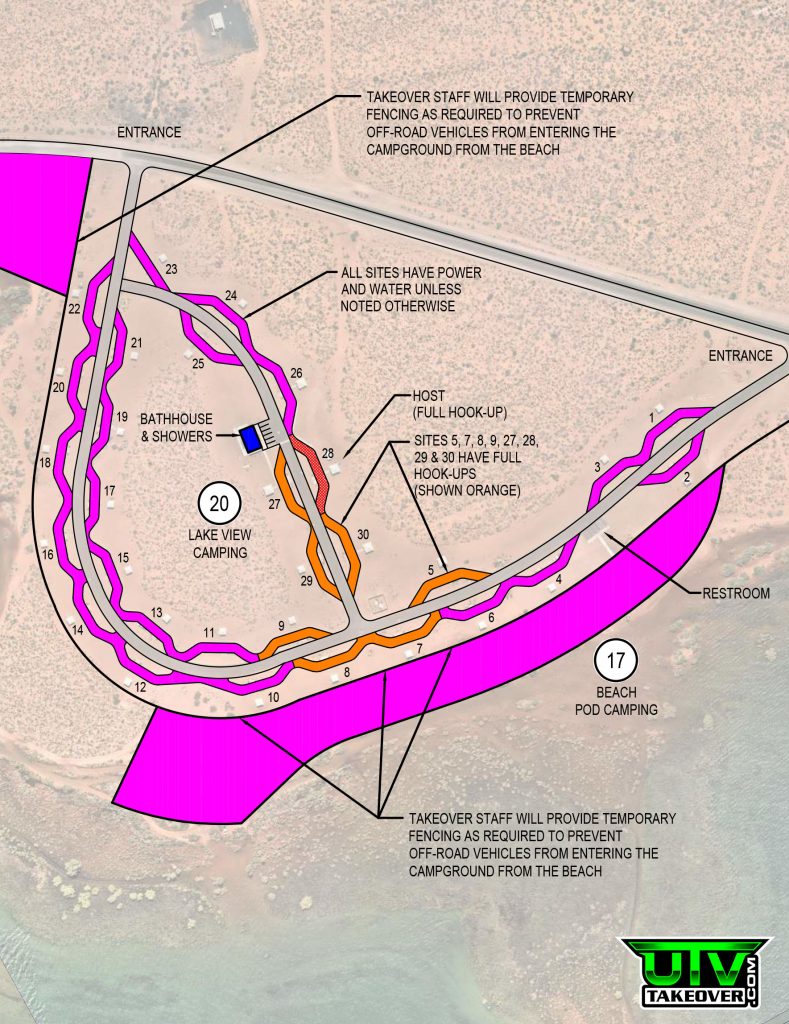 Event Overview Map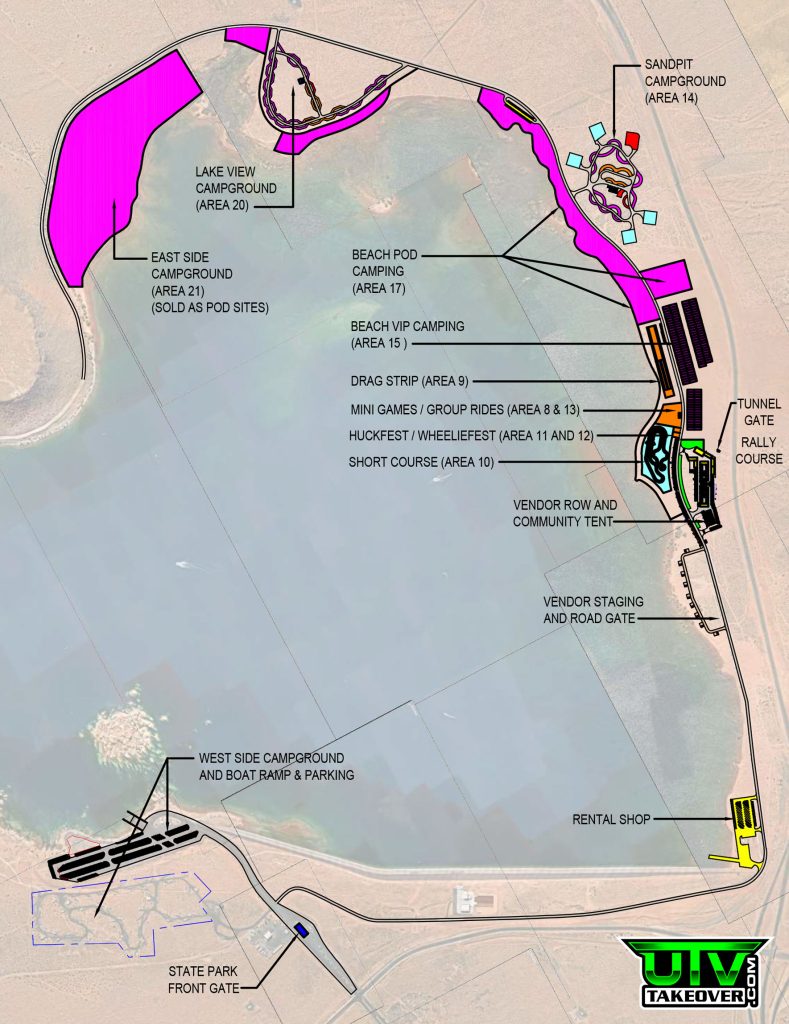 Please note: Updated October 3, 2023
Lakeview Campground FAQs
Where are the Lake View campsites located?
Area 20 is located just east of the main event area on Sand Hollow Rd. The Lake View is an existing campground with 22 standard power and water sites and 7 standard full hook-up camping sites.  All sites are located on hard pack gravel. Each campsite is clearly marked with existing signage. Each standard campsite in Area 20 is roughly 25′ wide by 65′ long. This lot includes existing dumpsters, flush restrooms, and showers.
How much are Area 20 camping passes?
Area 20 (Lakeview Campground) camping passes range from $450 for sites with fresh water and power hook-ups, to $550 for full hook-ups. Each site includes one trailer pass.
How many days are the Lakeview camping passes good for?
Each pass is good for six days and five nights starting at 12pm MT on Tuesday, October 17th through 12pm MT on Sunday, October 22nd.
How do I purchase Area 20 camping passes?
Lakeview camping passes can be pre-purchased through our website by using the links on this page. If campsites do not sell out before the beginning of the event, passes can be purchased at the entry gate when you arrive. Traditionally, these campsites sell out quickly!
Does my Lakeview camping pass purchase include any event entry wristbands?
No. Camping passes and event entry wristbands are sold separately. We did this to keep the cost as cheap as possible and wanted to make sure each participant only have to purchase what they need.
How can I purchase event entry wristbands?
You can pre-purchase wristbands through the website up to the week of the event, or purchase them at the gate for $50. We recommend purchasing them through the website to help reduce wait times at the gate.
Do I need event entry wristbands to access my camping spot?
Yes, please be aware everybody in your vehicle will need event entry wristbands to get through the entry gate to access your camping spot. Wristbands are $50 per person through the website or at the gate. Kids 12 and under are free!
When can I check into my Lakeview campsite?
The event starts at noon on Wednesday but you can check in starting 12pm MT on Tuesday, October 17th. Unlike previous years, there is no additional fee for setting up camp on Tuesday!
When do I need to check out from the Lakeview campsite?
All participants are asked to clean their sites and check out by 12pm MT on Sunday, October 22nd. Please help us leave Sand Hollow cleaner than we found it!
How many vehicle passes will we need if we purchase a group campsite?
After the purchase of a Lakeview group campsite, our team will contact you to figure out how many vehicle passes you will need. Each group campsite comes with one vehicle pass. Each additional vehicle will need a pass and can be obtained by purchasing a Pod Sand Camping pass at $200 each.
Is there a charge for extra vehicles or trailers?
Each vehicle in the Lakeview Campground will need a vehicle pass to get through the gate. If you have additional vehicles, simply purchase a $200 Beach Pod Camping pass for each extra vehicle. Adding a Pod Camping pass affords your vehicle a vehicle pass. This vehicle can either camp in the Lakeview Pod or within a friend's reserved campsite, as long as they fit within the boundaries of that reserved campsite. campsite. Please note that at least one person must have a camping pass associated with the campsite you are staying in. Overflow parking is available if needed!
Will a dozer be available in the Lakeview Campground?
No dozer is required in this area. Area 20 is an existing campground with campsites located on a hardpack gravel surface.
How do I access the Lakeview Campground?
Area 20 can be accessed from Sand Hollow Road, east of the rental shop. Access to the campground will be monitored by our security team, making sure both the road and entrance remain unobstructed during the event. Our security team at the gate will make sure all vehicles have the appropriate vehicle passes and camping reservations. If trailers trying to enter the sand are staged on the access road, campers staying in Lakeview Campground will be allowed to bypass the line of trailers, but, for safety, only with the help of our road crew.
Do the Lakeview campsites have utilities?
7 of the Lakeview campsites have full hook-ups, while the other 22 sites have only power and fresh water.  The Westside Campground has 4 dump stations and a water filling station that can be used before accessing the event area. There are no dump locations for Gray/Blackwater in the Lake View Campground unless you are staying in one of the seven Full Hook-up Sites. Gray/Blackwater is not permitted to be dumped on the gravel, pavement, or in the grass. If you need your tanks dumped during the event, we will have a septic service company you can call for a small fee or you can head over to the Westside Campground location just 1/2 mile away.
Are campfires allowed in Area 20?
Campfires are ONLY allowed in the state park IF they are in propane pits, elevated and self contained pits, or state park supplied steel rings. A rock ring is NOT allowed, even if you find a previously used rock ring! We asked participants not to throw cans and garbage in the campfires. NO GLASS is allowed on the beach! Any unused firewood remaining at the end of the event must be taken with you when you leave. Please help us leave Sand Hollow better than we found it!
Are there dumpsters in Area 20?
Areas 20 is an existing campground and has multiple dumpsters located throughout the campground. We ask that all participants help keep the dunes and campground clean by using these dumpsters during the event.
Are there restrooms/showers in Area 20?
Area 20 has existing flush restrooms and showers located in the center of the lot. The showers are coin-operated and cleaned daily by our campground host.
Is there a campground host in Area 20?
Area 20 will have a full-time campground host provided by Sand Hollow State Park. The campground host will always monitor the campground and help check-in campers as they arrive each day. The campground host will be camped near the center of the park next to the restrooms. Feel free to swing by and say hi as they are there to help and answer any questions you may have.
Do I need a permit to fly a drone?
Yes. Contact Sand Hollow State Park for the permit. 5-day permits ($15/ea) are required to fly drones within the state park. Violators are subject to citation.